OneScore: Credit Score Insight : OneScore is here to simplify credit management like never before. The new update comes with a smoother app experience and smarter ways of tracking all your credit accounts in detail – in one place.
On the latest version of OneScore, you can get a bird's eye view of all your credit & loan accounts under one tab. You can still check your Experian & CIBIL score for free while we share customised actions to help you build better credit history or credit record.
But that's not all – we're excited to announce the launch of One InstaLoan, a new personal loan product offered in partnership with Federal Bank. With One InstaLoan, you can get quick and easy access to the funds you need, with minimal hassle and a seamless application process. Trust us to help you manage your credit and financial needs with ease and convenience.
Take charge of your credit health with OneScore
Check out your credit score and credit report on the go
Apply for Personal Loan & get the amount disbursed instantly
Monitor all your loan and credit accounts under one tab
Set up reminders for bill payments & EMIs
Get personalised insights on how to manage your credit
Understand the factors that affect your score
Learn A-Z of credit management & be prepared for any major milestone in life
Also Read:
How To Create Sticker For WhatsApp App
How To Hide Your Photo On Android Device
Damini Lightning Alert App For Monsoon
Free Experian & CIBIL Score
Check your Experian & CIBIL score in an instant for free. No spam, no ads. Just your credit score delivered in an instant.
Alerts on new credit score changes
Get notified about changes in your score in real time. Stay in charge of your credit score by seeing what potential lenders may see.
Find out why
OneScore 2.0 keeps you informed about your credit score every step of the way. The 'Find out why feature' analyses your data and tells you all the reasons why your credit score has changed.
Credit Score planner
Building a credit score is now easier with the score planner. It doesn't matter where you are on your credit journey, the score planner will tell you just the steps you need to manage your credit better.
Credit Score Simulator
If you don't have a credit score yet, OneScore 2.0 gives you an opportunity to learn the credit moves that can take your credit score to the next level. Simulate your credit score and get suggestions on how to get started with your credit journey the perfect way.
My loans
The all-new features OneScore 2.0 will give you a bird's eye view of all loan & credit card accounts. You'll be able to set reminders, view your repayment history, and all other crucial details on all your accounts.
Report errors
Seeing an incorrect entry on your credit history? Worry not, now you can report any error in your credit record with a simple click.
Customers applying for a Personal Loan should make note of the below :
Lending partner: Federal Bank
Minimum tenure: 12 Months
Annual Percentage Rate (APR): 12.5% to 19%
Processing fees: 1.5% To 2.5% (Rs. 999 being the Minimum).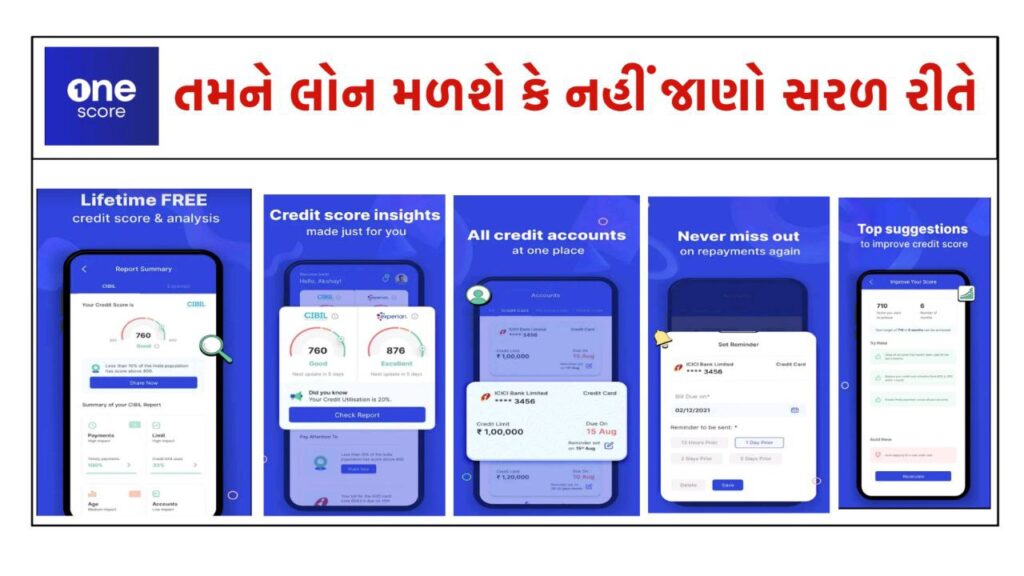 Please note that, in all the cases where loan is opened on or after 6th of a month, even though the first interest demand date would be till 5th of next month, the EMI will fall on the 5th of month succeeding the next month. The interest from the period of loan opening to the first interest demand date is termed as the Broken Period Interest.
For example, on a personal loan of Rs. 55,000 at an interest rate of 13.5% with repayment tenure of 4 years, the EMI will be Rs. 1,489. The amount disbursed working would be:
Loan Amount : Rs.55,000
Processing Fees : (Rs.999)
Broken Period Interest : (Rs.244.11) (based on the date the loan is disbursed, BPI is calculated based on the interest till the first EMI date)
GST on Processing Fees : (Rs.179.82)
Amount Disbursed to customer: Rs.53,577
However, in case of change of payment mode or any delay or non-payment of EMIs, additional charges / penal charges may also be applicable, depending on the lender's policy.
App Source From: Google Play Store