Gujarat e Nirman Card Registration : Gujarat Chief Minister Mr. Vijay Rupani launched the e-Nirman portal and its Mobile Application for unorganised sector/ construction workers with an aim of maximum registration and coverage even at rural level to provide benefits of welfare schemes like U-WIN, MA Card, Shramik Annapurna, etc from Gandhinagar in the presence of Labour and Employment Minister Mr. Dilipkumar Thakor. He said that the development of the nation-state has been made possible only with the contribution of 82% of the workers from unorganized sector/construction workers.
Gujarat e Nirman Card Registration Portal Mobile App
Gujarat e Nirman Card Registration : Currently eNirman Mobile App will allow beneficiaries to apply for 2 schemes, Construction Worker ICard Registration. Electric 2 Wheeler Subsidy Scheme for Construction Worker, Factory Worker & ITI Student. The CM said that Gujarat is the first state to take initiative for online registration of workers from such unorganised sector / construction workers. He also congratulated as this process was also carried out by in-house GIPL.
Yojana Name / Scheme e-Nirman Gujarat
Scheme Launched By – Gujarat Government
Beneficiaries – unorganised sector/ construction workers
Post Category – Yojana
Registration – Online / Mobile App
Official Website – enirmanbocw.gujarat.gov.in
Gujarat e Nirman Eligibility
Candidates Age Limit 18 To 60 Years.
90 days working as construction worker in last 12 months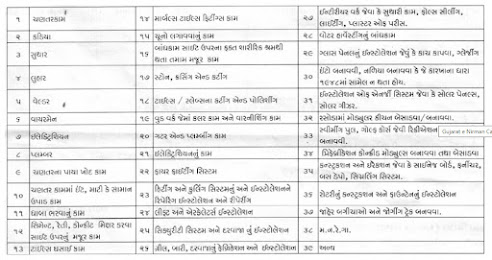 Gujarat e Nirman Benefits of registration
Benefits of all welfare schemes implemented by the Board are available to registered construction workers.
Assistance of Rs. 27,500 / – for each delivery within the first two delivery limits to registered women construction workers.
Free health check up and treatment by Dhanvantari Rath.
Assistance up to Rs. 3 lakhs in case of occupational disease and injury.
Nutritious meal at Rs. 10 under Shramik Annapurna Yojana.
Assistance of Rs.500 to Rs.40,000 / – for each of the two children under the education assistance scheme.
Assistance of Rs. 1,60,000 / – under Shri Nanaji Deshmukh Awas Yojana and Rs. 1,00,000 / – under Housing Subsidy Scheme.
Assistance of Rs. 3 lakhs under accidental death assistance and Rs. 7,000 / – under funeral scheme.
10,000 / – (FD) bond in the name of daughter under Mukhyamantri Bhagyalakshmi Bond Scheme.
Hostel facilities for migrant construction workers' children in the worker's hometown.
How To Register Gujarat e Nirman Card?
Register Through Official Application Or Official Website enirmanbocw.gujarat.gov.in
How To Download Gujarat e Nirman Card App ?
All the interested construction workers under the Gujarat Building and Other Construction Workers Welfare Board who wants to get benefits of state govt. schemes can download eNirman App. The direct link to download eNirman App from google play store is hereby mentioned by GujaratAsmita.